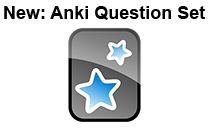 I have always wanted to have study questions as a part of the Curriculum. However, as a former Director of the American Board of Ophthalmology, I have written a lot of questions for the ABO's Written Qualifying Examination and the AAO's OKAP examination. I worried that I would just write the same questions for my site, which would have been great for the users of the Iowa Glaucoma Curriculum but unfair to others.
Sean M. Rodriguez, M.D., a member of our residency class of 2024, solved this problem when he created an Anki deck of study questions. The deck provides a series of ~1000 flash cards to help the user memorize critical information. The deck includes a subset of "high yield" questions that might be helpful to review right before an examination. Three of Sean's classmates (Aaron Dotson, MD, Tina Hendricks, MD and Mahsaw Motlagh, MD) reviewed and edited the cards.
The Anki app can be downloaded here: https://apps.ankiweb.net
The Iowa Glaucoma Curriculum Anki deck can be found HERE.
Introductory Video by Dr. Rodriguez